There are many wedding planners on Lake Como, you will need to decide who will be the most trustable, precise and stylish to make your visions a reality. Price is an important factor that will determine your decision; when you are comparing prices make sure you see what service is included and that no costs are hidden, to avoid surprises at the end.
When thinking about a destination wedding, one of the most important factors that should determine your decision, in my opinion, is the language. Many wedding planners are Italian and can be hard to communicate with, often leading to misunderstandings; others are English with very limited Italian knowledge, making it extremely difficult to communicate with vendors. Make sure you know your planner's background when making a decision, a Skype call always helps!
1. Personality
You will be spending a lot of time talking to your wedding planner. You don't want someone who is obnoxious and with which you can barely communicate with. You want to have a connection, a precise chemistry, between the planner and bride/couple. That person needs to be friendly, patient, confident, understanding, trustable and most importantly, available. A lot of brides feel like they are left alone as they can only communicate within workings hours which sometimes does not work for them, especially if there is a big time difference. This is one of the things that can stress couples the most, lack of communication and finding time within their working hours to plan their wedding. I can assure you that if you book with us, not only will you have a fun experience planning your day but you will be completely stress free. I always give my personal phone number to my brides and they can FaceTime, Skype or WhatsApp me at any time. Once the wedding is over you will have a new friend! I still talk to all my couples, they update me with their lives and some come back to see me for drinks on their one year anniversary. Whether I plan your wedding in a limited timeframe or over a year's time, I promise you will never feel stressed and will always be happy.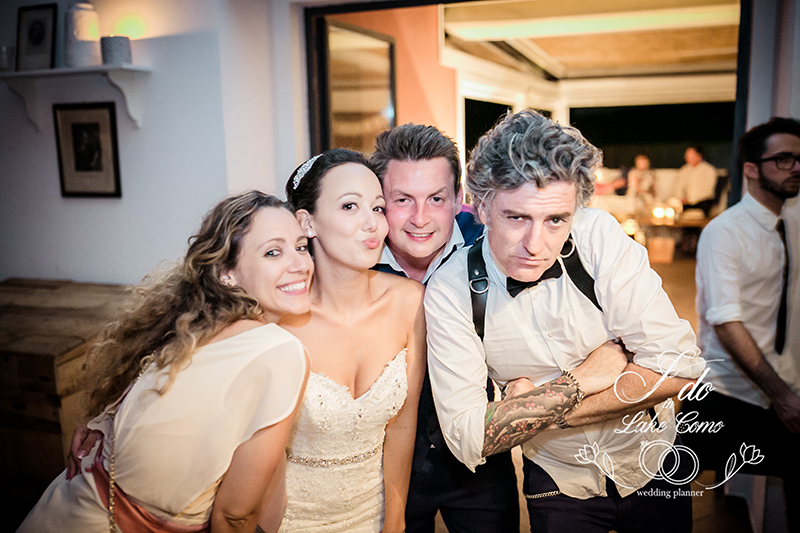 2. Experience
Of course personality isn't enough. Good wedding planners need to be able to do their job right. Experience is essential. Unfortunately reading reviews is not a guarantee. Many wedding companies have great reviews as their owners were the ones initially planning weddings. However, the more weddings they agreed to, the more people got hired to do them. With these wedding planning companies, you choose the name but no one can guarantee you the right planner. It can be her first month, week, year in the company and you will never know. This unfortunately comes out whilst planning the wedding or even worse on the actual day. A problem might occur on the wedding day and if it does, the planner needs to be quick and great at solving it without the bride even finding out. That day is the most special day of your life and everything needs to be perfect and smooth. With I do in Lake Como, you know that the planner will always, only be me. I have staff that helps me on the actual wedding day, setting up the event and assisting in the coordination of all the suppliers but I will be the only planner. This is why with I Do in Lake Como, we only have a selected amount of weddings per year. To focus 100% on your wedding. We care about the client satisfaction. Every bride is unique and I create every wedding personalised for her needs. I have many years of experience as a wedding planner on the lake, having worked for another wedding planning company as wedding planner as well as as an event manager.
I only do weddings on Lake Como, unlike other planners that might focus in more locations. I therefore know the best venues, suppliers and best deals.
You won't have any language or culture barrier. I am Italian and therefore can communicate without any problem with all the suppliers but I am also mother tongue English. I left Italy at the age of 11 and have ever since only attended English schools. Living in many countries has given me the ability to understand different cultures and people. This is super important when planning weddings in a foreign country. I can relate and incorporate your traditions with the Italian knowledge needed for a perfect destination wedding!
3. Pricing
A lot of wedding planners do not have a fixed price. They first want to know the venue, date and number of guests you are thinking of, and will then give you a price based on your decisions. This is difficult for couples as they just want an idea of prices. Couples wants to know whether or not they can afford their dream day on Lake Como. Sometimes they still have no clue where/when they want their wedding and instead of guiding them, some planners complicate things and waste a lot of time. With I Do in Lake Como it's simple and easy. We are super transparent with all prices. With your first enquiry you will get prices for the 3 different types of packages we offer; no matter what package you have enquired for, no matter what month you have chosen or venue. We have 3 packages with 3 different prices. We list the services clearly for each package, leaving you to choose the one that fits your needs. Easy and simple and most importantly, real and fast. We give you all the information and it is then up to you to choose your planner.
Different brides have different needs. Hence we offer 3 different packages with extra services to fulfil everyone's desires. We also organise wedding proposals or elopements.
So brides to be, what are you waiting for?
Let your fairy tale begin with I Do in Lake Como.
With Love
x
Zaira